Психология в маркетинге. Феномен Баадера-Майнхоф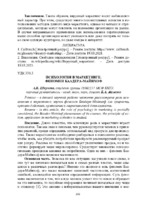 Authors
xmlui.dri2xhtml.METS-1.0.item-advisor
Date
2021
Publisher
Bibliographic entry
Шкулепа, А. В. Психология в маркетинге. Феномен Баадера-Майнхоф / А. В. Шкулепа ; науч. рук. Б. А. Железко // Экономика и маркетинг в промышленности [Электронный ресурс] : материалы студенческой научно-технической конференции, проводимой в рамках международного молодежного форума «Креатив и инновации' 2021», Минск, 20-30 апреля 2021 г. / редкол.: А. В. Данильченко [и др.]. – Минск : БНТУ, 2021. – С. 203-204.
Abstract
В данной научной работе частично рассмотрена роль психологии в маркетинге, изучен феномен Баадера-Майнхоф его сущность, принцип действия, применение в маркетинговой деятельности.
Abstract in another language
In this article, the role of psychology in marketing is partially considered, the Baader-Meinhof phenomenon of its essence, the principle of action, application in marketing activities is studied.
View/Open
Collections