Формирование архитектурной среды с учетом традиций И современных тенденций (на примере г. Полтава, Украина)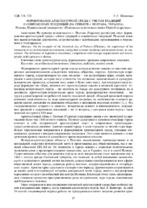 Authors
Date
2020
Publisher
Bibliographic entry
Шевченко, Л. С. Формирование архитектурной среды с учетом традиций И современных тенденций (на примере г. Полтава, Украина) / Л. С. Шевченко // Формирование архитектурной среды Беларуси с учетом традиций и современных тенденций [Электронный ресурс] : материалы Международной научно-практической конференции, 15 сентября 2020 г. / редкол.: А. С. Сардаров [и др.]. – Минск : БНТУ, 2020. – С. 57-58.
Abstract
На примере исторического г. Полтава (Украина) рассмотрен опыт формирования архитектурной среды с учетом традиций и современных тенденций. Показано влияние законодательных документов, сотрудничества с зарубежными организациями и горожанами в этом процессе.
Abstract in another language
On the example of the historical city of Poltava (Ukraine), the experience of the formation of an architectural environment, taking into account traditions and modern trends, is considered. The influence of legislative documents, cooperation with foreign organizations and townspeople in this process is shown.
View/Open
Collections