Сравнительный анализ организационно-правовых форм на примере ИП, ЧУП и ООО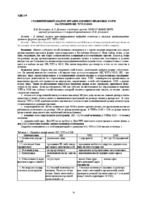 Authors
xmlui.dri2xhtml.METS-1.0.item-advisor
Date
2019
Publisher
Bibliographic entry
Куликович, Е. В. Сравнительный анализ организационно-правовых форм на примере ИП, ЧУП и ООО / Е. В. Куликович, А. С. Денисик ; науч. рук. Н. В. Дашкевич // Экономика и маркетинг в промышленности : материалы студенческой научно-технической конференции, проводимой в рамках международного молодежного форума «Креатив и инновации' 2019», Минск, 10−25 апреля 2019 г. / редкол.: А. В. Данильченко [и др.]. – Минск : БНТУ, 2019. – С. 38-39.
Abstract
В данной статье рассматриваются подробно сходства и отличия организационно-правовых форм на примере ИП, ЧУП и ООО.
Abstract in another language
This article discusses in detail the similarities and differences of organizational and legal forms on the example of an individual entrepreneur, a private unitary enterprise and a limited liability company.
View/Open
Collections