Концепция территориальной организации музеев народной архитектуры (скансенов) в условиях Беларуси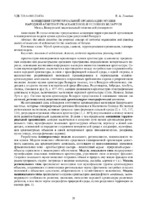 Authors
Date
2020
Publisher
Bibliographic entry
Локотко, А. А. Концепция территориальной организации музеев народной архитектуры (скансенов) в условиях Беларуси / А. А. Локотко // Формирование архитектурной среды Беларуси с учетом традиций и современных тенденций [Электронный ресурс] : материалы Международной научно-практической конференции, 15 сентября 2020 г. / редкол.: А. С. Сардаров [и др.]. – Минск : БНТУ, 2020. – С. 35-36.
Abstract
В статье описаны предложенная концепция территориальной организации и планировочные модели музеев архитектуры для условий Беларуси.
Abstract in another language
The article describes the proposed concept of territorial organization and planning models of museums of architecture for the conditions of Belarus.
View/Open
Collections