Проблема франчайзинга в Республике Беларусь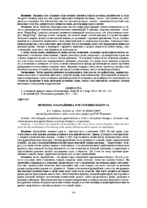 Authors
xmlui.dri2xhtml.METS-1.0.item-advisor
Date
2019
Publisher
БНТУ
Bibliographic record
Гордеев, В. О. Проблема франчайзинга в Республике Беларусь / В. О. Гордеев ; науч. рук. Н. М. Чигринова // Экономика и маркетинг в промышленности : материалы студенческой научно-технической конференции, проводимой в рамках международного молодежного форума «Креатив и инновации' 2019», Минск, 10−25 апреля 2019 г. / редкол.: А. В. Данильченко [и др.]. – Минск : БНТУ, 2019. – С. 360-361.
Abstract
Рассмотрены возможности франчайзинга в США и Республике Беларусь. Выделены перспективы развития франчайзинга в столице Беларуси и ее регионах.
xmlui.dri2xhtml.METS-1.0.item-annotation
Considered the possibility of franchising in the United States and the Republic of Belarus. Prospects for the development of franchising in the capital of Belarus and its regions are highlighted.
Files in this item
Collections