Анализ лексикографической окрашенности художественных текстов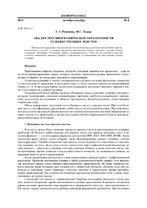 Authors
Date
2016
Another Title
The analysis of lexicographical coloring the literary texts
Bibliographic entry
Романюк, Г Э. Анализ лексикографической окрашенности художественных текстов = The analysis of lexicographical coloring the literary texts / Г. Э. Романюк, М. С. Ходар // Информатика. – 2016. – № 4. – С. 82-94.
Abstract
В статье предлагается программа анализа текста для нахождения и распознавания цветовых образов, используемых в тексте. С помощью программы фиксируются данные, строится матрица цветов и цветовые диаграммы. Полученные данные экспортируются в Excel для последующего изучения и анализа статистики цветовых образов и определения их зависимости от вида текста, жанра и автора.
Abstract in another language
A text analysis program for finding and recognition of color characters used in the text is developed. The program fixes the data, builds a color matrix and a color diagram. The program exports the data into Excel for further study and analysis of statistics of color characters to determine their dependence on text type, genre and author.
View/Open
Collections