Территориальная культура или культура места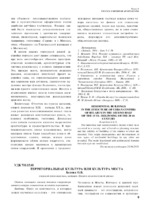 Authors
Date
2012
Publisher
Another Title
Territorial culture or culture of the place
Bibliographic entry
Белова, О. В. Территориальная культура или культура места = Territorial culture or culture of the place / О. В. Белова // Архитектура : сборник научных трудов / редкол.: А. С. Сардаров (гл. ред.) [и др.]. – Минск : БНТУ, 2012. – Вып. 4. – С. 9-13.
Abstract
Статья посвящена анализу понятия «территориальная культура» и выявлению аспектов ее развития.
Abstract in another language
This article is devoted to the analysis of concept «local culture» and to understanding of aspects of its development.
View/Open
Collections