Преемственность и новаторство в преобразовании городского центра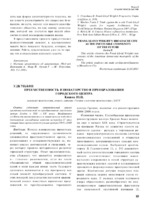 Authors
Date
2012
Publisher
Another Title
The succession and the innovation in the reorganization of the city centre
Bibliographic entry
Кишик, Ю. Н. Преемственность и новаторство в преобразовании городского центра = The succession and the innovation in the reorganization of the city centre / Ю. Н. Кишик // Архитектура : сборник научных трудов / редкол.: А. С. Сардаров (гл. ред.) [и др.]. – Минск : БНТУ, 2012. – Вып. 4. – С. 83-87.
Abstract
Статья содержит сравнительный анализ проектных предложений по преобразованию городского центра Гродно в XIX — XX веках. Выявляются особенности преемственного и новаторского подхода к достижению ансамблевых качеств застройки С этих позиций дана оценка реконструкции центра 2006—2008 годов.
Abstract in another language
The article contains a comparative analysis of project suggestions about the reorganization of city centre in Grodno in the 19th — 20th centuries. The peculiarities of successive and innovatory approach to the achievement of ensemble building's qualities are revealed. From this position the estimation of the latest center's reconstruction in 2006 - 2008 is given.
View/Open
Collections