Угрозы для глобальной энергетической безопасности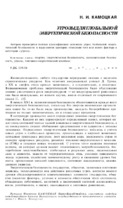 Authors
Date
2015
Publisher
Another Title
Threats to national and global energy security
Bibliographic entry
Камоцкая, Н. И. Угрозы для глобальной энергетической безопасности / Н. И. Камоцкая // Веснiк Беларускага дзяржаунага эканамiчнага унiверсiтэта. – Минск : БДЭУ, 2015. – № 3. – С. 41-47.
Abstract
Автором приводится полная классификация основных угроз глобальной энергетической безопасности и выделяются критерии отнесения того или иного фактора к категории «угроза».
Abstract in another language
The author gives a complete classification of major threats to global energy security and provides the criteria for categorizing a particular factor as a threat.
View/Open
Collections