Электронное портфолио специалистов как инструмент повышения конкурентоспособности библиотечно-информационных услуг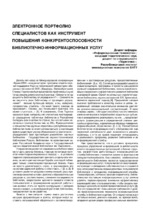 Authors
Date
2014
Publisher
Bibliographic entry
Стрелкова, И. Б. Электронное портфолио специалистов как инструмент повышения конкурентоспособности библиотечно-информационных услуг / И. Б. Стрелкова // Бiблiятэчны свет. – Мiнск : Нацыянальная бiблiятэка Беларусi, 2014. – № 6. – С. 24-26.
Abstract in another language
The possibilities of improving the quality and relevance of library and information services and libraries in the digital environment. Electronic Professional Portfolio Information Service library is considered as an effective tool in this process. It is proposed cooperation of Belarusian libraries with the Republican Institute of Innovative Technology for the implementation of National Technical University training programs «Development of an electronic portfolio teacher/specialist».
View/Open
Collections