Эколого-экономические показатели систем очистки газовых выбросов от сернистого ангидрида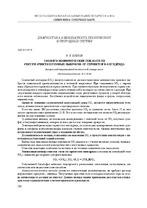 Authors
Date
2014
Publisher
Белорусская наука
xmlui.dri2xhtml.METS-1.0.item-title-alternative
Environment and economic indicators of sulfur dioxide emissions treatment systems
Bibliographic record
Бубнов, В. Ф. Эколого-экономические показатели систем очистки газовых выбросов от сернистого ангидрида = Environment and economic indicators of sulfur dioxide emissions treatment systems / В. Ф. Бубнов // Весцi Нацыянальнай акадэмii навук Беларусi.Серыя фiзiка-тэхнiчных навук = Известия Национальной академии наук Беларуси. Серия физико-технических наук. – 2014. – № 4. – С. 116-123.
Abstract
Рассмотрены эколого-экономические показатели различных способов очистки газовых выбросов, содержащих сернистый ангидрит (ЅO 2). Показано, что наименьшие затраты на очистку 1000 м3 имеют известковый и известняковый, а также электронно-лучевой методы. Однако электронно-лучевой метод позволяет одновременно производить очистку дымовых газов сразу от ЅO 2 и NO х.
xmlui.dri2xhtml.METS-1.0.item-annotation
Environmental and economic indicators of different methods of sulfur dioxide (SO 2) emissions treatment have been considered. It have been shown that the lime and limestone methods and electron-beam method have the lowest cost for treating of 1000 m³. But the electron-beam method is also capable to treat sulfur dioxide (SO 2) and nitrogen oxides (NO) emissions at once.
Files in this item
Collections