Математическая модель и расчет конструктивных параметров устройства для колебательного движения инструмента при точении с асимметричным циклом колебаний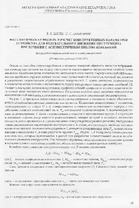 Authors
Date
2014
Publisher
Белорусская наука
xmlui.dri2xhtml.METS-1.0.item-title-alternative
Mathematical model and calculation of machine design parameters of a oscillation device for a tool at turning with asymmetric cycle of oscillations
Bibliographic record
Шелег, В. К. Математическая модель и расчет конструктивных параметров устройства для колебательного движения инструмента при точении с асимметричным циклом колебаний = Mathematical model and calculation of machine design parameters of a oscillation device for a tool at turning with asymmetric cycle of oscillations: [токарная обработка] / В. К. Шелег, С. С. Данильчик // Весцi Нацыянальнай акадэмii навук Беларусi.Серыя фiзiка-тэхнiчных навук = Известия Национальной академии наук Беларуси. Серия физико-технических наук. – 2014. – № 3. – С. 69-75.
Abstract
Рассмотрена схема устройства для точения с асимметричными колебаниями инструмента, направленными вдоль подачи. Разработана математическая модель колебательных движений инструмента с асимметричным циклом, позволяющая определить конструктивные параметры устройства.
xmlui.dri2xhtml.METS-1.0.item-annotation
Machine model for turning operations with asymmetric tool oscillations based on transducer-coupling system feed technology is considered. Mathematical model of oscillatory motions of tools with asymmetric cycle permitting to determine the design parameters is developed.
Files in this item
Collections