Исследование процесса обратного выдавливания с использованием сил активного трения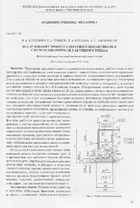 Authors
Date
2014
Publisher
Белорусская наука
xmlui.dri2xhtml.METS-1.0.item-title-alternative
Investigation of reverse extrusion with use of active friction forces
Bibliographic record
Исследование процесса обратного выдавливания с использованием сил активного трения = Investigation of reverse extrusion with use of active friction forces / В. В. Клубович [и др.] // Весцi Нацыянальнай акадэмii навук Беларусi.Серыя фiзiка-тэхнiчных навук = Известия Национальной академии наук Беларуси. Серия физико-технических наук. – 2014. – № 3. – С. 27-30.
Abstract
Приведены результаты исследования влияния коэффициента трения и толщины стенки стакана на энергосиловые параметры процесса при обратном выдавливании. Произведена оценка напряженно-деформированного состояния и величин перемещения матрицы от активных сил трения.
xmlui.dri2xhtml.METS-1.0.item-annotation
The results of studies of the effect of friction coefficient and thickness of а pipe wall on energy-force parameters of reverse extrusion process are shown. The evaluation of the stress-strain state and amounts of displacement matrix from the active forces of friction is made.
Files in this item
Collections