Геометрические характеристики плоских сечений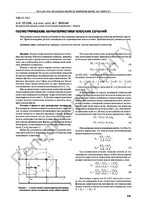 Authors
Date
2015
Publisher
[б. и.]
xmlui.dri2xhtml.METS-1.0.item-title-alternative
Geometrical plane section characteristics
Bibliographic record
Дудяк, А. И. Геометрические характеристики плоских сечений / А. И. Дудяк, Ж. Г. Дикан // Актуальные вопросы машиноведения : сборник научных трудов. – Минск, 2015. – Вып. 4. – С. 241-244.
Abstract
Рассмотрено плоское сечение, состоящее из двух различных материалов, отличающихся модулями продольной упругости. Предложен порядок расчета геометрических характеристик такого сечения. Представлены результаты расчета.
xmlui.dri2xhtml.METS-1.0.item-annotation
The plane section consisting of two different materials that differ by the longitudinal elasticity modules is considered. The procedure for calculating the geometrical characteristics of the section is proposed. The calculation results are presented.
Files in this item
Collections