Высшее образование: методологические ориентиры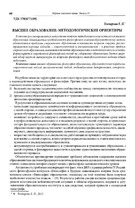 Authors
Date
2013
Publisher
Каменец-Подольский национальный университет
Bibliographic record
Гончарова, Е. П. Высшее образование: методологические ориентиры / Е. П. Гончарова // Педагогiчна освiта: теорiя i практика : збiрник наукових праць. - Кам`янец-Подiльський, 2013. - Вип. 13. - С. 48-54.
Abstract
В статье рассматриваются актуальные вопросы методологического осмысления высшего образования: доказывается необходимость философского анализа образовательных систем, обозначаются проблемы современного образования в контексте запросов социума, рассматриваются научные подходы - социологический и аксиологический - к решению проблем современного образования, выявляется понятие образованности в методологическом аспекте, формулируется современный философский взгляд на содержание образования, дается широкий обзор научной литературы по вопросам философско-методологического видения общей педагогики.
xmlui.dri2xhtml.METS-1.0.item-annotation
The article deals with current issues of methodological understanding of higher education: it is proved the need for philosophical analysis of educational systems, indicated the problems of modern education in the context of the requests of a society, considered scientific approaches - sociological and axiological - to meet the challenges of contemporary education, reveals the concept of education in a methodological perspective, formulated a modern philosophical view of education content, offers a broad review of scientific literature on the philosophical and methodological vision in common pedagogy.
Files in this item
Collections