Структурообразование тонкодисперсных цементсодержащих систем в присутствии гидрофобизатора = Structural formation of fine-particle cement-containing systems in the presence of oil-wetting agent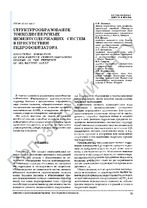 Authors
Date
2010
Publisher
БелдорНИИ
Universal Decimal Classification
691.32.022: 620.17
Bibliographic record
Структурообразование тонкодисперсных цементсодержащих систем в присутствии гидрофобизатора = Structural formation of fine-particle cement-containing systems in the presence of oil-wetting agent / С. Н. Леонович [и др.] // Автомобильные дороги и мосты. – Мн.: БелдорНИИ, 2010. – №1. – С. 51-58.
Abstract
В статье приведены результаты исследования особенностей формирования кристаллических структур бетонов в присутствии гидрофобизатора олеата аммония, гидрофилизатора оксиэтилированного нонилфенола, а также продукта взаимодействия Si(OH)jU) с глицерином, обеспечивающего ускоренное твердение материала.
xmlui.dri2xhtml.METS-1.0.item-annotation
The article describes the results of studying specifics of concrete crystalline structures formation in the presence of ammonium aleate oil-wetting agent, oxyethilized nonylphenol, as well as the interaction product of Si(OH)jU) with glycerin, providing accelerated hardening of material.
Files in this item
Collections