Дэманстрацыйны эксперымент па фізіцы як даследчы кампанент інжынернай падрыхтоўкі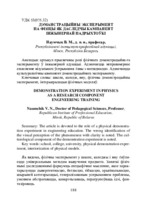 Authors
Date
2021
Publisher
Another Title
Demonstration experiment in physics as a research component engineering training
Bibliographic entry
Наумчык, В. М. Дэманстрацыйны эксперымент па фізіцы як даследчы кампанент інжынернай падрыхтоўкі = Demonstration experiment in physics as a research component engineering training / В. М. Наумчык // Непрерывная система образования «Школа - университет». Инновации и перспективы : сборник статей V Международной научно-практической конференции, Минск, 28-29 октября 2021 г. / Белорусский национальный технический университет ; редкол.: О. К. Гусев [и др.]. – Минск : БНТУ, 2021. – С. 188-191.
Abstract
Артыкул прысвечаны ролі фізічнага дэманстрацыйнага эксперыменту ў інжынернай адукацыі. Адзначаецца неправамернае атаясненне візуальнага ўспрымання з'явы з нагляднасцю. Адзначаецца культуралагічны кампанент дэманстрацыйнага эксперыменту.
Abstract in another language
The article is devoted to the role of a physical demonstration experiment in engineering education. The wrong identification of the visual perception of the phenomenon with clarity is noted. The culturological component of the demonstration experiment is noted.
View/Open
Collections