Усовершенствование трансмиссии транспортного средства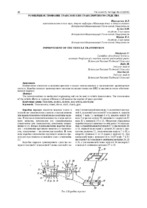 Date
2019
Publisher
Another Title
Improvement of the vehicle transmission
Bibliographic entry
Николаенко, В. Л. Усовершенствование трансмиссии транспортного средства = Improvement of the vehicle transmission / В. Л. Николаенко, М. Н. Булин, К. А. Марчук // The scientific heritage. – 2019. – Vol. 1, № 42. – С. 48-49.
Abstract
Изобретение относится к машиностроению и может использоваться в трансмиссиях транспортных средств. Коробка передач транспортного средства позволяет повысить КПД и увеличить число обеспечи-ваемых передач.
Abstract in another language
The invention relates to mechanical engineering and can be used in vehicle transmissions. The transmission of the vehicle allows to increase efficiency and increase the number of gears provided.
Collections