Аб актуальных падыходах у вывучэнні гістарычнай граматыкі беларускай мовы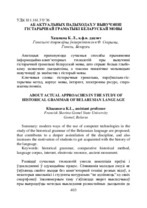 Authors
Date
2020
Publisher
Another Title
About actual approaches in the study of historical grammar of Belarusian language
Bibliographic entry
Хазанава, К. Л. Аб актуальных падыходах у вывучэнні гістарычнай граматыкі беларускай мовы = About actual approaches in the study of historical grammar of Belarusian language / К. Л. Хазанава // Непрерывная система образования "Школа - университет". Инновации и перспективы : сборник статей ІV Международной научно-практической конференции, посвященной 100-летию БНТУ, Минск, 29-30 октября 2020 г. / Белорусский национальный технический университет ; редкол.: О. К. Гусев, Н. А. Афанасьева, Е. К. Костюкевич. – Минск : БНТУ, 2020. – С. 403-406.
Abstract
Прапануюцца сучасныя спосабы прымянення інфармацыйна-камп'ютарных тэхналогій пры вывучэнні гістарычнай граматыкі беларускай мовы, што спрыяе больш глыбокаму засваенню дысцыпліны, а таксама павялічвае матывацыю навучэнцаў да знаёмства з гісторый мовы.
Abstract in another language
Modern ways of the use of computer technologies in the study of the historical grammar of the Belarusian language are proposed; that contributes to a deeper assimilation of the discipline, and also increases the motivation of students to get acquainted with the history of the language.
View/Open
Collections