Вклад сотрудников Белорусского политехнического института в Победу над фашистской Германией (1941 – 1945 гг.)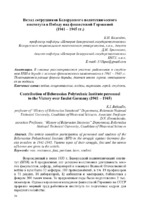 Authors
Date
2020
Publisher
Another Title
Contribution of Belorussian Polytechnic Institute personnel to the Victory over fascist Germany (1941 – 1945)
Bibliographic entry
Баландин, К. И. Вклад сотрудников Белорусского политехнического института в Победу над фашистской Германией (1941 – 1945 гг.) = Contribution of Belorussian Polytechnic Institute personnel to the Victory over fascist Germany (1941 – 1945) / К. И. Баландин, Д. Н. Хромченко // Память о Великой Победе: межвузовский сборник статей. – Москва : МГТУ им. Н. Э. Баумана, 2020. – С. 26-36.
Abstract
В статье рассматривается участие работников и студен-тов БПИ в борьбе с немецко-фашистскими захватчиками в 1941–1945 гг. Показываются разные формы борьбы, даются имена героев, описываются их подвиги.
Abstract in another language
The article considers participation of personnel and students of the Belarussian Polytechnical Institute (BPI) in the struggle against Germany fascist invaders in 1941-1945. Various types of their struggle, feat and the names of heroes are given in the article.
Collections