Архитектурно-пространственная организация православных духовных центров Полоцка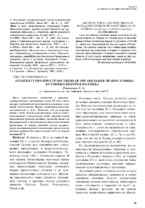 Authors
Date
2012
Publisher
Another Title
Architectural-spatial organization of orthodox religions centres in Polatsk
Bibliographic entry
Панченко, Т. А. Архитектурно-пространственная организация православных духовных центров Полоцка = Architectural-spatial organization of orthodox religions centres in Polatsk / Т. А. Панченко // Архитектура : сборник научных трудов / редкол.: А. С. Сардаров (гл. ред.) [и др.]. – Минск : БНТУ, 2012. – Вып. 5. – С. 39-44.
Abstract
После существенных изменений в церковногосударственных отношениях конца XX века стало насущно необходимым качественное развитие социальной деятельности Церкви (культурологической, миссионерской и т.д.). Поэтому для расширения знаний в этой области архитектуры важно систематизировать исторический опыт строительства православных духовных центров, провести анализ их функциональной и архитектурно-пространственной организации. В статье проведён анализ архитектурно-пространственной организации православных духовных центров Полоцка в период с XI в. до первой половины XV в.
Abstract in another language
In the general historical-cultural context there was mode the comparative analysis of theory and practice in formation and development of orthodox complexes, as well as the orthodox religions centres on the territory of ethnic Belarus. After significant changes in church-state relations at the end of the XXth century was the indispensable qualitative development of social work of the church (cultural, missionary, etc,). Therefore, to improve the knowledge in the field of architecture, it is important to organize historical experience of construction of orthodox religious centres to undertake an analysis of the functional and spatial organization. There were revealed the peculiarities of formation orthodox religions centres under the influence of different stylistic concepts, their building, functional and architectural-spatial organization of modern orthodox religions centres. In article the analysis of spatial organization of orthodox spiritual centres of polotsk from Xlth century until the first half of the XVth century.
View/Open
Collections