Композиционные особенности Спасо-Преображенской церкви в Полоцке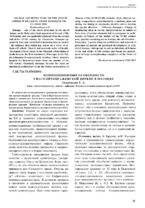 Authors
Date
2012
Publisher
Another Title
The compositional features of the church of Transfiguration of Savior in Polotsk
Bibliographic entry
Лаврецкий, Г. А. Композиционные особенности Спасо-Преображенской церкви в Полоцке = The compositional features of the church of Transfiguration of Savior in Polotsk / Г. А. Лаврецкий // Архитектура : сборник научных трудов / редкол.: А. С. Сардаров (гл. ред.) [и др.]. – Минск : БНТУ, 2012. – Вып. 5. – С. 21-25.
Abstract
В статье рассматриваются принципы построения архитектурной формы Спасо-Преображенской церкви в контексте близости ее планировочной системы аналогичным по времени балканским и древнерусским храмам. Проблема создания развитого по высоте храма была решена в полоцком зодчестве XII в.
Abstract in another language
The church of Transfiguration of Savoir in Spaso-Eufiosinievski monastery is an outstanding example of development of Byzantine tradition in Old Russian architecture in XII c. Well-defined planning structure, existing in significant for Polotsk church, was the base for development architectural school at that time. Planning, metrology, symbolism of spaces point out to some principles took place there.
View/Open
Collections