Инновационный потенциал градостроительства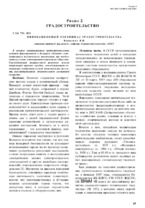 Authors
Date
2012
Publisher
Another Title
The innovative potential of urban planning
Bibliographic entry
Вашкевич, В. В. Инновационный потенциал градостроительства = The innovative potential of urban planning / В. В. Вашкевич // Архитектура : сборник научных трудов / редкол.: А. С. Сардаров (гл. ред.) [и др.]. – Минск : БНТУ, 2012. – Вып. 5. – С. 63-66.
Abstract
В статье анализируются градостроительные аспекты формирования в Беларуси объектов самодеятельного технического творчества как необходимого условия инновационного развития общества. Перспективным направлением развития жилых территорий крупных городов, способствующем активизации изобретательской деятельности населения, рассматривается строительство смешанной застройки.
Abstract in another language
The urban development of do-it-yourself workshops in Belarus is analyzed Spatial accessibility to D.I.Y workshops is considered as neces.sary condition for innovation development of society. The proposed way of expanding the cities which encourages technical creativity of residents is mixed development.
View/Open
Collections