Постижение Болонского процесса через интернет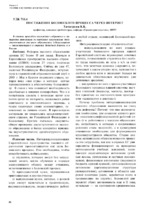 Authors
Date
2012
Publisher
Another Title
Unsderstanding of Bologna process through internet
Bibliographic entry
Хачатрянц, К. К. Постижение Болонского процесса через интернет = Unsderstanding of Bologna process through internet / К. К. Хачатрянц // Архитектура : сборник научных трудов / редкол.: А. С. Сардаров (гл. ред.) [и др.]. – Минск : БНТУ, 2012. – Вып. 5. – С. 56-62.
Abstract
В статье приведено изложение собранного в интернете материала по проблеме организации двухступенчатого высшего образования («бакалавриат — магистратура») в странах Западной Европы и в России.
Abstract in another language
This article contains a description of the materials, which were collected in the internet. These materials are facing the problem of the organization of two-stage higher education ("Bachelor - Master") in Western Europe and in Russia.
View/Open
Collections