Passive mode locking of 2.09 μm Cr,Tm,Ho:Y3Sc2Al3O12laser using PbS quantum-dot-doped glass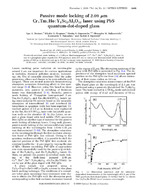 Authors
Date
2009
Publisher
Bibliographic entry
Passive mode locking of 2.09 μm Cr,Tm,Ho:Y3Sc2Al3O12 laser using PbS quantum-dot-doped glass / I. A. Denisov [et al.] // Optics letters.– 2009. – Vol. 34, № 21. – P. 3403-3405.
Abstract
Passive Q-switched mode locking of a 2.09 μm flashlamp-pumped Cr3+,Tm3+,Ho3+:Y3Sc2Al3O12 laser by use of a phosphate glass doped with PbS quantum dots of 5 nm in radius was demonstrated. Mode-locked pulses of 290 ps in duration and up to 0.5 mJ in energy were registered.
View/Open
Collections
Related items
Showing items related by title, author, creator and subject.
Rudenkov, Alexander

;

Kisel, Viktor

;

Yasukevich, Anatol

;

Hovhannesyan, Karine

;

Petrosyan, Ashot

;

Kuleshov, Nikolai

(

БНТУ

,

2019

)

Compact actively Q-switched diode-pumped lasers based on Yb3+-materials are of practical importance for wide range of scientific, industrial and biomedical applications. The aim of this work was to study the Yb3+:LuAlO3 actively Q-switched laser. One of the most promising crystalline hosts for rare-earth ions are Perovskite-like aluminate crystals. Yttrium aluminate crystal YAlO3 ...

Lutsenko, E. V.

(

BNTU

,

2013

)

Lutsenko, E. V. Lasers pumped by injection ingan lasers / E. V. Lutsenko // Фотоника: наука в производство = Photonics: science into production : сборник материалов белорусско-китайского форума, 12-13 декабря 2013 г. – Minsk : BNTU, 2013. – С. 46-48.

Serres, J. M.

;

Loiko, P. A.

;

Mateos, X.

;

Yumashev, K. V.

;

Kuleshov, N. V.

;

Petrov, V.

;

Griebner, U.

;

Aguilo, M.

;

Diaz, F.

(

Springer

,

2015

)

A compact intracavity-pumped microchip Ho laser is realized using stacked Tm:KLuW/Ho:KLuW crystals pumped by a laser diode at 805 nm; both crystals are cut for light propagation along the Ng optical indicatrix axis and emit with polarization along the Nm axis. Maximum CW output power of 285 mW is achieved at a wavelength of 2080 nm for 5.6 W absorbed pump power in the Tm:KLuW ...