Выкарыстанне фальклору пры вывучэнні лексікалогіі беларускай мовы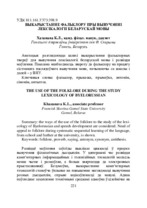 Authors
Date
2019
Publisher
Another Title
The use of the folklore during the study lexicology of byelorussian
Bibliographic entry
Хазанава, К. Л. Выкарыстанне фальклору пры вывучэнні лексікалогіі беларускай мовы = The use of the folklore during the study lexicology of byelorussian / К. Л. Хазанава // Непрерывная система образования "Школа - Университет". Инновации и перспективы : сборник статей ІІІ Международной научно-практической конференции, Минск, 31 октября – 1 ноября 2019 г. / Белорусский национальный технический университет ; редкол.: О. К. Гусев [и др.]. – 2019. – С. 221-223.
Abstract
Hазглядаюцца шляхі выкарыстання фальклорных твораў для вывучэння лексікалогіі беларускай мовы і развіцця маўлення. Паказана неабходнасць звароту да фальклору на працягу сістэмнага паслядоўнага вывучэння мове, пачынаючы са школы і далей – у ВНУ.
Abstract in another language
The ways of the use of the folklore to the study of the lexicology of Byelorussian and speech development are considered. Need of appeal to folklore during systematic sequential learning of the language, from school and further at the university, is shown.
View/Open
Collections