Трехкомпонентная концепция согласованной промышленной политики в ЕАЭС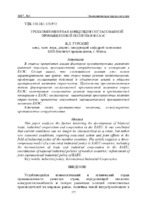 Authors
xmlui.dri2xhtml.METS-1.0.item-editor
Date
2017
Publisher
БНТУ
Bibliographic record
Гурский, В. Л. Трехкомпонентная концепция согласованной промышленной политики в ЕАЭС / В. Л. Гурский // Экономическая наука сегодня : сборник научных статей / пред. редкол. С.Ю. Солодовников . - Минск : БНТУ, 2017. - Вып. 5. - С. 377-394.
Abstract
В статье проводится анализ факторов препятствующих развитию взаимной торговли, промышленному сотрудничеству и кооперации в ЕАЭС. Сделан вывод, что сложившиеся условия уже нельзя характеризовать как кризис, это скорее новые условия хозяйствования, требующие согласования действий и объединения усилий в области промышленной политики стран-членов. Предложена трехкомпонентная модель формирования согласованной промышленной политики стран ЕАЭС, включающая: согласование условий торговли и промышленной кооперации в ЕАЭС; согласование национальных промышленных политик стран-членов; проведение совместной наднациональной промышленной политики ЕАЭС.
xmlui.dri2xhtml.METS-1.0.item-annotation
This paper analyzes the factors hindering the development of bilateral trade, industrial cooperation and cooperation in the EAEU. It was concluded that current conditions can no longer be characterized as a crisis, but rather new economic conditions, requiring concerted action and joint efforts in the field of industrial policy of the member countries. The article suggests a threecomponent model of a concerted industrial policy in EAEU countries, including the harmonization of trade and industrial cooperation in the EAEU; coordination of national industrial policies of member countries; enforcement of joint supranational industrial policy of EAEU.
Files in this item
Collections