Управление организацией в условиях финансового кризиса (на примере ОАО «Сбербанк России»)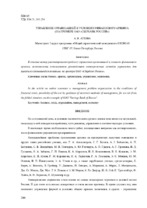 Authors
Date
2014
Publisher
Bibliographic entry
Агеева, А. В. Управление организацией в условиях финансового кризиса (на примере ОАО «Сбербанк России») / А. В. Агеева // Экономическая наука сегодня : сборник научных статей / пред. редкол. С. Ю. Солодовников. - Минск : БНТУ, 2014. - Вып. 2. - С. 244 - 249.
Abstract
В статье автор рассматривает проблему управления организацией в условиях финансового кризиса, возможность использования руководством антикризисных методов управления, для выхода из сложившейся ситуации, на примере ОАО «Сбербанк России».
Abstract in another language
In the article an author examines a management problem organization in the conditions of financial crisis, possibility of the use by guidance of anticrisis methods of management, for an exit from the folded situation, on the example of ОАО "Savings Bank of Russia".
View/Open
Collections