AUTOCAD в учебном процессе курса "Информатика"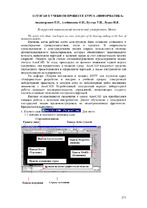 Authors
Date
2009
Publisher
Bibliographic entry
AUTOCAD в учебном процессе курса "Информатика" / П. П. Анципорович [и др.] // Теоретическая и прикладная механика : международный научно-технический сборник. – Вып. 24. – 2009. – С. 275-280.
Abstract in another language
The article tells about teaching to use some principles of the drawings making on the base of Autocad to students.
View/Open
Collections