Asymptotic methods and joining of asymtotics in the kinetic theory of condensed matter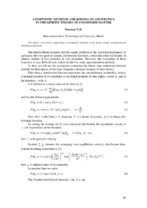 Authors
Date
2009
Publisher
Bibliographic entry
Nemtsov, V. B. Asymptotic methods and joining of asymtotics in the kinetic theory of condensed matter / V. B. Nemtsov // Теоретическая и прикладная механика : международный научно-технический сборник. – Вып. 24. – 2009. – С. 69-72.
Abstract in another language
The article is devoted to application of asymptotic methods in the theory of time–dependent pair distribution functions.
View/Open
Collections