Наноструктурные механизмы физико-химических реакций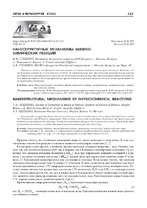 Authors
Date
2021
Publisher
Another Title
Nanostructural mechanisms of physicochemical reactions
Bibliographic entry
Стеценко, В. Ю. Наноструктурные механизмы физико-химических реакций = Nanostructural mechanisms of physicochemical reactions / В. Ю. Стеценко, А. В. Стеценко // Литье и металлургия. – 2021. – № 4. – С. 123-126.
Abstract
Принято считать, что физико-химические реакции в основном являются молекулярно-атомными. Показано, что жидкая вода состоит на 12 % из молекул и на 88 % – из нанокристаллов льда. При плавлении микрокристаллы веществ распадаются на нанокристаллы и молекулы или на нанокристаллы и атомы. При кристаллизации жидкостей происходит обратный процесс. На основе приведенных физико-химических реакций показано, что в их основе преобладают наноструктурные механизмы.
Abstract in another language
It is generally accepted that physicochemical reactions are mainly molecular atomic. It was shown that liquid water consists of 12 % molecules and 88 % of ice nanocrystals. When melting, microcrystals of substances break down into nanocrystals and molecules or into nanocrystals and atoms. During the crystallization of liquids, the reverse process occurs. Based on the above physicochemical reactions, it is shown that nanostructural mechanisms prevail in their basis.
View/Open