Контроль способности к волочению катанки из углеродистой стали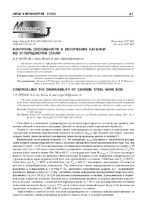 Authors
Date
2021
Publisher
Another Title
Controlling the drawability of carbon steel wire rod
Bibliographic entry
Фетисов, В. П. Контроль способности к волочению катанки из углеродистой стали = Controlling the drawability of carbon steel wire rod / В. П. Фетисов // Литье и металлургия. – 2021. – № 3. – С. 61-64.
Abstract
Предложен показатель деформационной способности катанки из углеродистой стали, учитывающий склонность металла к упрочнению, и общий уровень пластических свойств, и определены технологические подходы назначения оптимального суммарного обжатия до промежуточной термической обработки при волочении низкоуглеродистой катанки и катанки для металлокорда.
Abstract in another language
The author proposed an indicator of the deformation capacity of carbon steel wire rod, which took into account the tendency of the metal to hardening and the general level of plastic properties, and determined technological approaches to the designation of the optimal total reduction before intermediate heat treatment by drawing low carbon wire rod and wire rod for metal cord.
View/Open