Динамическое легирование высокомарганцовистой стали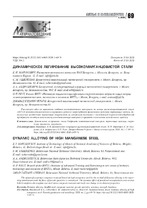 Authors
Date
2020
Publisher
БНТУ
xmlui.dri2xhtml.METS-1.0.item-title-alternative
Dynamic alloying of high manganese steel
Bibliographic record
Динамическое легирование высокомарганцовистой стали = Dynamic alloying of high manganese steel / Е. И. Марукович [и др.] // Литье и металлургия. – 2020. – № 2. – С. 69-74.
Abstract
Рассмотрен один из вариантов создания композиционного материала на основе высокомарганцовистой стали 110Г13Л методом динамического легирования в режиме сверхглубокого проникания сгустками порошковых частиц. Динамическое воздействие порошковых микрочастиц на матричную заготовку c последующей термической обработкой преобразует исходную литую сталь в композиционный материал и приводит к изменению механических свойств.
xmlui.dri2xhtml.METS-1.0.item-annotation
The option of creating a composite material based on high manganese steel by the method of dynamic alloying in the superdeep penetration mode by flows of powder particles is considered. The dynamic effect of powdered microparticles on a matrix billet transforms the original cast steel into a composite material and leads to a change in mechanical properties.
Files in this item